New Mexico Tri Con
October 27-28, 2012
Pre-sales end Wednesday October 24, 2012 at 11:59pm Mountain
Time left before ticket sales close:
On-line Advanced Ticket Sales Closed,
tickets available at the convention.
Ticket for photo-ops not shown below will only be available on-site. On-site ticket sales are cash only.
Please read the Terms of Service at the bottom of the page. Purchasing a ticket signifies your acceptance of these terms. Please check our home page for last minute updates at www.froggysphotos.com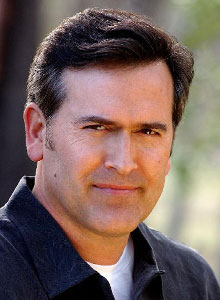 Bruce Campbell
On-site Prices
8x10 Only - $40.00
8x10 and Email Digital Copy - $50.00
2 8x10 Prints - $50.00
Digital Copy and 2 8x10 Prints - $55.00

Terms of Service:
Ticket price includes: Ticket is for one photo op with the actor(s) described. As part of the photo op one 8x10 color glossy photograph will be printed at the event. Ticket does not include admission to the event or and other services than those described (ex. autographs). Admission to the event must be purchased seperately and will be required to participate in the photo op. You are responsible to pick up the photo from the tables adjacent to the photo booth. Add-on's for an additional fee include: A digital copy of the photo session sent to your registered PayPal email address. This copy will be a high resolution JPEG. Buyer is responsible for insuring that the registered PayPal email address is valid and can accept 5-7 Mbyte files. Depending on the number of digital copies requested this could mean a required space of 50-60 Mbytes available in Buyer's email account. Seller is not responsible for missed photos when the registered email address is not valid, does not have enough space to accept all of the digital photos ordered, the Buyers email system places the sent items into a "spam" folder or when Buyer's email system rejects email sent from Seller's system because it has been erroneously placed on a "blacklist".
On-line Ticket Purchase: All tickets purchased on-line must be picked up at the convention. Please allow time to do this prior to your photo shoot. For very large shows we may send out electronic tickets during the week before the convention that can be used in leu of picking up the ticket at the sales desk. In the event that tickets are sent out ahead of time, tickets must be printed one per 8 1/2 x 11 sheet of paper, full page. The barcode must be able to be scanned to be an acceptable ticket. If the Buyer cannot print the ticket before the convention, Buyer is to have their ticket printed at the convention. Images of the ticket on digital devices (smart phones, digital pads) are not acceptable.
Photo Shot Times: Photo shoot times will be posted as soon as they are finalized by the convention. If time permits they will be posted here on this website or on the convention website the week before the event. These times however remain fluid up until the actual photo shoot. We cannot foresee all delays that may occur in a very live event that is a convention. Please check the photo shoot times on the day of the shoot and again later in the day. Also please be at the photo shoot 10-15 minutes before it is to begin. For photos that involve multiple actors the line situation is very dynamic as we try to start shooting photos as soon as the first actor arrives. Also, there is no implied duration for the photo shoot. The actor will only remain in the photo booth as long as there are people lined up to have their picture taken. Once the line is empty the actor leaves and are typically not available for another photo shoot that day. If you miss a photo shoot on one day and the actor is shooting the next day, as a courtesy you may use your ticket for that day's photo shoot when the photo shoot is exactly same and has the exact same value. Additional costs to be able to use the photo shoot ticket are not covered; ex. convention ticket costs for an additional day will not be covered. Refunds will not be given when the photo shoot ticket cannot be used the next day.
Refunds for missed photo shoots: There are no refunds for photo ops if you miss/or are late to the shoot. Please be early or on time for the start of the photo sessions. Schedules will not always be available on this site but can usually be located on the event website or at the event itself. As stated above you may use a ticket for the next day, but a refund will not be given for a missed photo session.
Photo delivery: We strive to have your photo to you as soon as you leave the photo booth, but due to unforseen circumstances photos may be up to an hour or two after the shoot and for shoots late in the day, this may be the next day of the convention. There is no guarantee that photos will be processed in time to be autographed the day they are taken. Refunds will not be given because you do not have time to get your photo autographed. Also, reprints, if purchased, will be printed after you pick up your first hard copy of your photo session. Photos and reprints not picked up at the convention will require a handling fee for mailing to Buyer. If the optional JPEG is ordered, we will make every effort to mail them during the day if we have internet access at the convention or in the evening the day they are taken if internet bandwidth at our hotel supports it otherwise they will be emailed the week after the convention.
Number of Adults in a Photo: Only 2 adults per photo. For most photos a 3rd adult is an additional $10.00, and a 4th is an additional $10.00, availably of 3 or more adults is at the discretion of the photographer and the actor and his management. Any more than 4 adults in a photo will require authorization from the photographer on prices and availability. You can pay for the added people at our sales desk. This applies to MOST photo-ops but some may have restrictions on adding any additional people. Small children and infants can be included in with 2 adults at no additional charge.
On-line Sales: Online sales are subject to a small handling fee added through PayPal
Credit Card or Debit Card Sales: If you pay for photo ops using a credit card or a debit card PayPal can take 10 days to process the credit back to your card issuer and your card issuer can take 20 days to credit the refund back to you. We at Froggy's Photos have no control over this. This time line is based on the policies and procedures of PayPal and your card issuer. We regret the delay but we have no control over it.
Questions? Please contact us at: questions@froggysphotos.com
Pre-sales will end Wednesday October 24, 2012 at 11:59pm MDT
Any customers who wish to get a refund on their Photo-Ops MUST contact us before the on-line sales end. Refunds will be sent the week after the show.
NO EXCEPTIONS
If you wanted a refund and failed to contact us before on-line sales ended, you can exchange your photo-op with other one of equal value at the convention. Tickets that do not have a refund request before the end of pre-sales or are not exchanged at the convention are subject to forfeiture.